Courses in Bioinformatics
(GeneBee in collaboration with Department of the Mathematical Methods in Biology)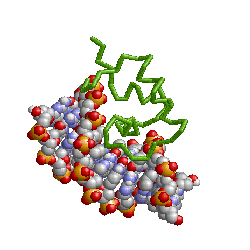 The Role of Bioinformatics
What is GCG?
Programm of GCG Courses for Beginners
Usage of GCG Package on GeneBee Server
Examples of GCG Output Forms
What is WhatIf?
Teachers
Planned Courses
Courses Statistics
Computer Class
Consultations
Due to colaborate work of many laboratories the total length of published nucleotide sequences is now
3 500 000 000 base pairs.
The printed copy of these data would consist of 1,000 manuscrits of 1000 pages each.
Sequences are stored in public electronic data bases. The only possibility to choose and structurize nescessary information is to use bioinformatic methods.
Problem 1. Many biologists are not familiar with many existing effective computer programms.
Problem 2. There is a lack of new ideas about what new significant results can be obtained from the huge ammount of data. This ideas can be invented by biologists who are familiar with bioinformatics.
GCG is a software package that contains all standard tools designed for working with biological sequences (searching information in databases, alignment, generation of philogenetic trees, primer design, secondary RNA structure prediction and lot of other).
GCG vs. Internet programms:
Everything in one place. Easy to use utilities

Minimal requirments to computer and network speed

GCG is popular among the scientists
Programm of GCG Courses for Beginners
(two days)
Review of main nucleotide and proteins sequences databases

Introduction to Unix. GCG utilities

Search in biological sequences databases

Exploration of evolution relationship of sequences

Work with anotated protein families
Usage of GCG Package on GeneBee server
Number of registered users (from Russia) - 92
Hits of package:
1998..............................................8468
1999 (up to September).................7541
GCG Programms Usage

reformat
chopup
fetch
bestfit
lookup
gap
fasta
pileup
blast
paupsearch
paupdisplay
motifs
stringsearch
names
прочие
| | |
| --- | --- |
| | Unrooted phylogramm of the selected alcoholdehydrogenases. (Output of paupsearch programm) |
| | Secondary structure of tRNA, predicted by mfold programm |
Whatif is a software package that contains realisation of more than 2000 actions with 3D structures of macromolecules (proteins, DNA, RNA, complexes).
Authors gave such charecteristic to this package:
"WhatIf lets molecular enginier using computer ask questions like: "What if I will change this valine for isoleucine?" and find out results of such a mutation using the program ".
Advantages among other programs (Rasmol, SwissPDBviewer): the amount of features.
Disadvantage: hard to learn.
WhatIf is not a tool that is worth for visulaization of macromolecules and other simple tasks, that can be done with other programs such as Rasmol.
About WhatIf - the one of the main packages for visualization and modification of 3D structures of proteins and nucleotide acids

About the technology of solving main problems using all available tools (GeneBee, GCG, Internet)
Courses started in may of 1998
On the moment of January of 2000 there where 10 sessions
Total amount of participators.........................................84
participators:
Scienctists..........................................................................58
including Belozersky Institute employeers .................19
Students and graduated students...................................26
In autumn of 1998 the computer class in campus "B" was organized. This class is equiped with 8 computers Pentium that are connected to local network.
There is a gateway to Internet. There is a way to work with GCG an WhatIf packages. Programs Rasmol, Gsview and other are installed. Computer class is used for bioinformatic courses and for scientific semenars.
Everyone who need a consultation for GeneBee service, GCG or WhatIf package is welcomed. If someone wants to get help on using mathematical methods he is welcomed also. Consultations take place weekly on Tuesday in 321app. of our institute. The time of consultations is 11am-12-am.